I know the site hasn't been posting much in the last couple weeks, but to be honest anyone who follows drift news knows that this is a sort of tight lipped time when people are holding onto big sponsor news and car releases until the technical inspection and the opportunity for big press. Also in my defense this is at the moment mostly a one man show and I do have a full time job, go to school part time and do some free lance graphic design work here and there. Either way, no excuse, the site is still here and kicking and I haven't forgotten about you. To wet your appetite here is something that I am working on and hope to bring to you in the upcoming weeks. Here is a preview of the Shift-Therapy.com Formula D drivers profiles.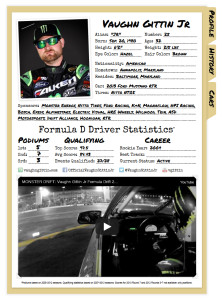 Now the information in this preview isn't verified vs the data i've been collecting for this project, but again it's just to wet your appetite. I am planning for the initial batch to be the Drift Alliance brothers (Tony Angelo, Chris Forsberg, Vaughn Gittin Jr, Justin Pawlak and Ryan Tuerck).
I have been collecting driver statistics for all drivers qualifying events back as far as 2007 and podiums as early as 2005 in addition to working some math some places to figure out average qualifying score, how many events they have qualified for since the rookie year and even what track they have performed best at. Upon launch the profiles will be limited to the profile page itself but I am hoping to grow each drivers profile to include a History/Time Line, List of Cars that they currently drive and/or own both in Formula D and personally as well as previous cars from past seasons. I will at least have photos but hope to also include as much technical info as possible.
These driver profiles are what inspired me to bring back Shift-Therapy as drifting/automotive blog to form a single place people can find out as much about the drivers as possible and keep up on general news so I am really looking forward to launching this project. Also as Shift-Therapy is a small site I don't have access to the drivers or information as some much larger blogs do so it's a lot slower for me to have to collect data manually throughout the internet and videos, blogs and driver sites, photos and etc, BUT don't count us out as we have gotten a lot more than we anticipated and are hoping to bring you the best place for Formula D driver info short of the drivers mouth itself.
So stick around, we are just tightening the bolts before we start shaking this puppy lose.